This is a very special week for me!
Yesterday was mother's day here in Australia - and my girls spoiled me very much!
It's also my 40th birthday tomorrow -and my lovely husband surprised me with an awesome present yesterday of...
A Bungee Jump!! AND a surprise party with all my friends there!
I have to say that jumping at age 39 was a bit scarier than I remember it being at age 19!
But is was still awesome fun and I would do it again in a heartbeat!
-------------------------------------------
Today my parents are taking me out shopping to get a fancy new camera as my present from them! Can't wait to get that and start snapping away!
But for now - I'll leave you with this week's linky - and will check out what everyone's been up to in a couple of days when all the excitement here has settled down a bit!
--------------------------------------------
Tuits are very hard to come by, especially the round ones. For years people have been saying,

"I'll do it as soon as I get a round tuit".

Well now you can have one of your very own, and all those jobs that have needed doing will finally get done!
Here's my favourites from last week's party:
First of all, this brilliant
Travel Shoe Bag from Pam at Threading my Way:
I'm definitely making some of these for our next trip!
Pam has some brilliant ideas and tutorials on her blog, together with a great series of ongoing linky parties which are a fabulous resource for all kinds of tutorials and ideas!
So what are you waiting for - head on over and check out Pam's place now!
http://threadingmyway.blogspot.com.au/
Next, this cute crochet love bracelet from Desperate Houselife:
I just love the simplicity of this idea. It's inspired me to show it to my daughter who is now an expert in crocheting chains and makes endless friendship bracelets for her friends. We have plenty of broken necklaces and charms etc that she could incorporate into her bracelets like the above!
For plenty more inspiration - check out this lovely blog:
http://www.desperatehouselife.com/
Finally, this great
DIY magnetic make-up board from Heavenly Savings: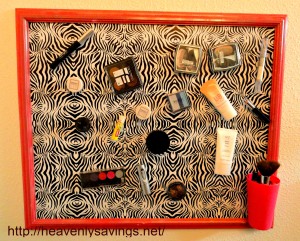 Krista has posted a wonderful tutorial - I love this idea and I'm pretty sure we've got all the raw materials around the house and shed to make my own version!!
For more great ideas - head on over to Krista's blog at:
http://heavenlysavings.net/
For those featured, feel free to grab a 'featured on' button from my
buttons page.
----------------------------------------------------------
Link up your own projects - old or new - no rules - just share your creativity and inspiration!
I'd love if you grabbed the button - then you can have your very own Round Tuit!
And of course we all love visitors and comments so do visit some of the other links!
By linking up here you're giving me permission to use photos from your post in features here on my blog.
I will feature my favourites on facebook during the week, and also on this post next week.