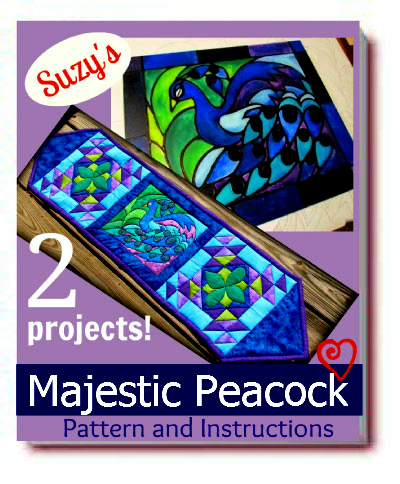 Have you ever visited Suzy's Artsy Craftsy Sitcom?
Well - it's one amazing blog, written by an even more amazing lady Suzy!
The crafting that goes on over there is unbelievable - such imagination! I'm constantly amazed by the things she comes up with!
Now Suzy has just published her first Ebook - where she is very generously sharing 2 of her fabulous Peacock projects:
A Faux Stained Glass Peacock, and a Quilted Peacock table runner.
As you can see from the pictures on the front of the book that the projects do look incredible..
I mean look at the detail on this..
But Suzy makes the whole thing seem simple enough for anyone to try.
She breaks the processes down into small, manageable steps, which she explains so clearly and adds LOTS of great photos to show exactly what she means!
Having made my first quilt recently - but nothing near as detailed as this, I can't wait to give this Peacock project a try.
The stained glass project is one I'm actually going to try with my 2 daughters.
Sewing is my craft of choice, but this painted glass project looks so great, and once again Suzy's instructions and photos are clear enough for anyone to give it a try!
If you'd like to read more about this book - and get a copy for yourself..