From 1-24th Dec I give to you my blog advent calendar.
Each day you can click on the numbered 'door' to 'open' it and find some Christmas upcycled/recycled goodness!
-----------------------------------------------------------
Hello Creating my Way to Success Readers!!!
My name is Michelle and I blog over at
Delicate Construction
!! I am a wife to a wonderful hubby, mommy a spunky toddler and caregiver to a young gentleman with Autism who lives with us. Needless to say I am a busy lady so my blog is a mix of my crafts, activities for your kids and decorating for home, parties and holidays- and of course all on a budget!!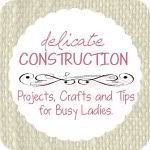 Today I am sharing with you a last minute holiday gift that you can make with the help of your child and with easy to find materials!
I have made tons of these pedestal platters for parties and craft fairs. I have used plain plates, fancy plates, glittered plates and mod podged plates- but what about a plate painted by my toddler?
Cute right? This one is for my mom and it would be perfect to use for jewelery on a night stand, hold fruit in a kitchen or even cupcakes on the table. Really it can be used for anything- you can adjust the size of plate or even a bowl, you just need something that is clear. I found mine at the dollar store.
Here is what you need:
Glass plate or bowl
Paint and brush (acrylic or glass paint)
Spray Paint
Cup or candle stick
Gorilla Glue
First you have you child paint the back of the plate. Couple things to take into consideration here, 1) you want to make sure that they don't paint on the top of the plate because if it is used for food, they should be able to wipe it down with a cloth. 2) If you are painting with a young child, make sure they don't eat the paint, just to be safe. This is a one on one activity not a let them paint while you are doing the dishes thing. 3) Also important if you have a young child painting, only pick colors that look nice when mixed together. I chose pink, yellow and white because together they make a nice coral color.
After the plate dried, I grabbed some white spray paint, I did this so that it would seal the back of the plate while at the same time filling in the spaces and giving the pedestal a more 'finished' look.


I also painted a small plastic cup to be my base- it is just what I had around, this is last minute after all ;).


After they are both dry, take your Gorilla glue (or whatever is your favorite) and glue the cup or candle stick to the base of your plate.
I will be honest, I had all this stuff around the house so I didn't have to go anywhere or buy anything- truely a last minute gift. But even if you did, the dollar store is a great place to have to stop for materials for a gift!!